Industrial real estate - Opportunities always come with challenges
Ngày:19/06/2020 09:40:57 SA
The factory relocation trend is creating great opportunities in the field of industrial real estate of Southeast Asian countries, including Vietnam. However, besides the opportunities we are possessing due to the increasing demand for industrial land, there are also obstacles preventing Viet Nam from fully developed Industrial real estate field. 
OPPORTUNITIES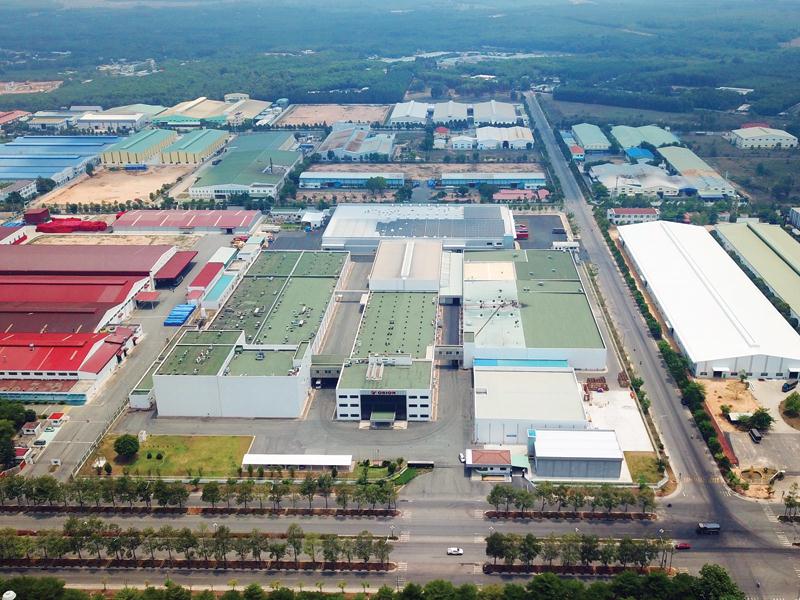 The wave of factory relocation from China has created an opportunity for Vietnam to receive investment flows from leading companies in the world. To prepare for this trend, Vietnam immediately expanded its industrial land fund, implemented investment incentive policies to attract large enterprises in the world.
Recently, Deputy Prime Minister Trinh Dinh Dung signed a Decision on investment guidelines for a project on construction and commercial operation of the infrastructure of Tran De industrial park, Soc Trang province, invested by Ha Thanh Concrete Joint Stock Company, with the area of ​​up to 1,800 ha. Hung Yen established Hoa Phong industrial zone with an area of ​​nearly 18 hectares, Thua Thien Hue has just issued a decision approving the additional list of projects calling for investment and announcing information of investment projects of construction investment and structural business of Phu Bai Industrial Park (IZ) phase III….
With an area of ​​over 195 hectares, the Duc Hoa III - SLICO Industrial Park project, possessing great advantages from transportation infrastructure, along with its strategic location, SLICO Industrial Park is expected to become an important link in the southern industrial supply chain.
In early 2020, Becamex Binh Dinh Industrial Park project with an area of ​​1,000 ha in Canh Vinh Commune (Van Canh District), total investment capital of more than VND 3,333 billion was also approved for investment policy. In addition to 1,000 hectares for industry and services, Becamex Binh Dinh has more than 400 hectares for urban, services and public utilities.
As investors aggressively expanded their industrial parkland, some big companies also realized the potential of the industrial real estate market and were keen to participate in this field.
Typically, Vingroup through its subsidiary Vinhome Joint Stock Company promotes ambition to encroach on industrial real estate. As planned, Vinhomes will develop industrial park real estate in provinces and cities such as Hai Phong, Hai Duong and Quang Ninh.
Dong Nai Rubber Corporation has also proposed the People's Committee of Dong Nai province consider changing the land use purpose for 18,000 / 37,000 hectares of rubber land that this enterprise is managing to shift to developing zones and clusters in Thong Nhat, Long Khanh, Cam My and Long Thanh districts with an area of ​​5,000 hectares, the rest develop high-tech agricultural production and residential areas.
LIMITED SUPPLIES
It can be seen that the wave of foreign direct investment has helped Vietnam's industrial real estate market be vibrant and attractive, but there are still some barriers, making it difficult to increase supply. Industrial parks with key locations have occupancy rates of up to 90%.
According to the report of the Department of Economic Zones Management (Ministry of Planning and Investment), by the end of the first quarter of 2020, there were 335 industrial parks in the country. In particular, the industrial land area reaches about 66,100 ha with the occupancy rate increasing to 75.5% in active industrial parks, up from 74% in 2019.
The speed of attracting investment and developing industrial zones in Vietnam has not really made a breakthrough due to many barriers that slow the process of attracting investment and reduce competition compared to other countries in the region. The legal procedures for establishing an industrial park last many months due to overlapping and complicated laws on investment, land, environment and construction. Besides, the transport infrastructure has not been fully invested, leading to higher transportation costs. There are too many barriers to attracting investment into industrial zones.
Due to the attraction of the industrial real estate market, the land rent in industrial parks continues to increase. According to a recent report of JLL Vietnam Company, in the first quarter of 2020, the land rent price of industrial parks in the North increased by 6.5% over the same period, in the South the land rent rate increased by more than 12.2%.
Many industrial parks do not have enough land to meet the large demand of foreign investors, causing many unsuccessful land lease agreements, especially the scarcity of land in the southern market such as Ho Chi Minh City and Binh Duong. Duong, Dong Nai, Ba Ria - Vung Tau and Long An.
Moreover, the investment in infrastructure for industrial parks has not been focused, some industrial parks have overloaded infrastructure, both in quantity and quality, which has pushed up transportation and logistics costs. This has created an investment barrier for businesses.
As the economy grows, human needs need to be developed in a synchronized manner. But Vietnam has not had solutions to combine and synchronize planning for industrial parks and housing real estate effectively in localities. The laborers working in industrial zones are not entitled to the accompanying services, their life is still difficult and limited.
From the perspective of an expert in industrial real estate, Mr. Doan Duy Hung - General Director of IIP VIETNAM expressed his opinion: Although the Covid-19 pandemic created opportunities for Vietnam in attracting FDI capital from leading enterprises in the world., we can not rely on low land rental costs, cheap labor costs to call "big companies" to set up "factories" in Vietnam. Vietnam should quickly come up with solutions to improve the investment environment, expand land bank and synchronously develop industrial parks and associated utilities ... to increase competitiveness with other countries in Asia.