Damsan Group established An Ninh Clean Industrial Cluster - a strong transformation to ensure social security and economy of Thai Binh Province
Ngày:22/06/2020 10:39:45 SA
If previously, Thai Binh was often referred to as a purely agricultural province in the South Red River Delta, recently, Thai Binh has emerged as a coastal economic zone throughout the country which is extremely attractive to investors.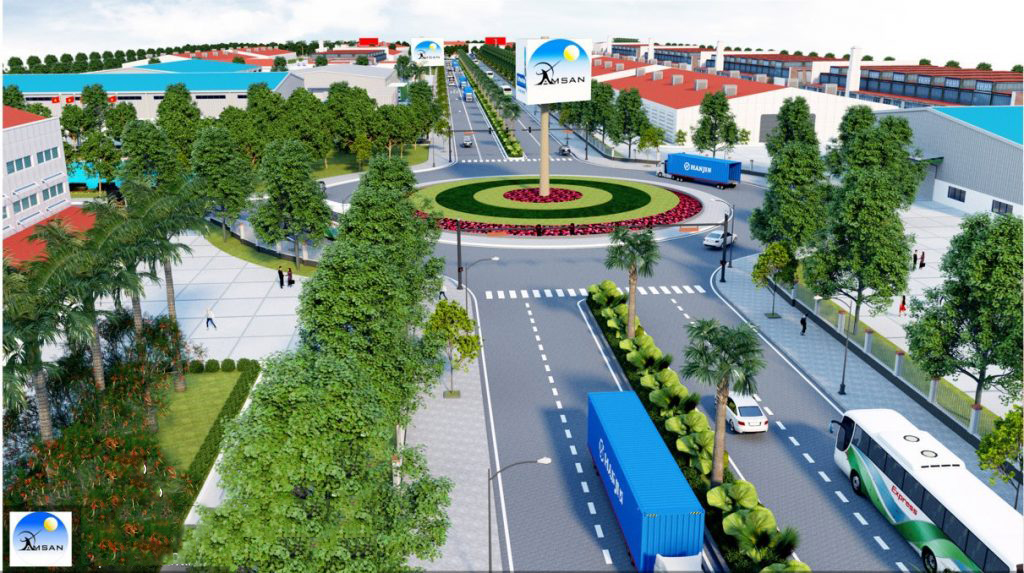 ADVANTAGES OF THAI BINH ECONOMIC ZONE
First of all, Thai Binh Economic Zone is located near important transport hubs of the region: about 40km from Cat Bi International Airport (Hai Phong), 30km from Hai Phong seaport and directly accessible to the nation's road and inland waterway transport system. In addition, Thai Binh Economic Zone is located in the triangle of economic growth Hanoi - Hai Phong - Quang Ninh.
With an area of ​​30,583ha and a large beach, Thai Binh Economic Zone has an adequate land fund to invest in constructions of industrial parks and clusters to meet the needs of large investors; Thai Binh Economic Zone now has some functional areas in operation with major key projects such as Thai Binh Power Center with 2 thermal power plants, a total capacity of 1,800MW, providing about 10.8 billion kWh / year; the project to bring gas from the sea to the shore is being exploited with an output of 200 million m3 of gas per year; Ammonium Nitrate factory, Ammonia factory; Diem Dien port ... There are the local power supplies that few economic zones have.
In addition, with abundant human resources, vocational training from basic to a high level; synchronous socio-economic infrastructure; promotion of investment attraction has been strengthened along with the application of mechanisms and policies on investment incentives ... Thai Binh economic zone has become an ideal area to attract big investors inside and outside the country.
Among them is the Damsan Investor with the An Ninh Clean Industrial Cluster project in Tien Hai District, which has contributed significantly to the economic development in Thai Binh Province.
BASIC INFORMATION ABOUT AN NINH INDUSTRIAL CLUSTER, TIEN HAI DISTRICT, THAI BINH
Location:
An Ninh industrial cluster, Tien Hai district, Thai Binh province is planned on agricultural land north of National Highway 37B in An Ninh commune, distance from NH37B to the planning boundary is 15m. Extremely convenient location:
- South of the Industrial Complex is 15m from National Road 37B
- 17km from Thai Binh city center
- 55km from Hai Phong port
Reasons why An Ninh industrial complex deserves to be invested:
Infrastructure
- Building a model and clean industrial zone
- Having modern wastewater treatment
plant
- Clean water supply factory - 2 thermal power plants are newly built
Investment environment:
Always welcome investors. Provincial and district leaders and departments are open, friendly, willing to help and create favorable conditions for businesses to deploy investment quickly. Administrative procedures are simple, convenient and professional.
Labor source: Abundant labor source, low labor costs
Transport
- Located on Highway 37B
- Near expressway Ninh Binh - Hai Phong - Quang Ninh
Support from the investor
- Free support when carrying out the initial procedures for the Project
- Infrastructure in the land is reasonably planned and ensures a large space for the development of businesses.
- Handing over the Land plot within 15 days from the day the Lessee makes a deposit to the Lessor.
- Support procedures and respond to the conversion of production plans and accompanying supporting investors (cost for each specific case will be agreed later).
- Supporting investors to work with provincial authorities when problems arise during operation.
- Support and introduce units of design, construction, supply and installation of machinery and equipment ... to ensure quality, ensure progress, competitive price, brand and reputation.
- Contact the relevant organizations/agencies to recruit personnel for Investors.
Investment incentives
- Corporate income tax (CIT): 20% (exempted for 2 years from the time of taxable income and 50% reduction of payable tax amount for 4 subsequent years).
- Exemption from land rent for 7 years from the date of issuance of the Investment Certificate.
- VAT: 0% applies to projects that are export processing enterprises (EPE).
- Profit remittance tax abroad: 0%.
The infrastructure of An Ninh
Industrial Park: - Infrastructure rent Land: An Ninh industrial complex: By location and time.
- Industrial Park Management and Maintenance Fee: By location and time.
- Clean water use charge: as prescribed by the water supply unit.
- The unit price of electricity produced: according to general regulations of EVN.
- Wastewater treatment fee at the present time: VND 15,000 / m3
About the investor of An Ninh IC
Being the leading famous enterprise in the province of producing fiber to supply domestic and foreign markets, in recent years, Damsan Group has focused on developing and building social housing, urban area projects and industrial clusters. For many years, Damsan Group is one of the businesses that have contributed significantly to the economic development in Thai Binh province.
Investor of An Ninh IC officially signed a strategic cooperation agreement with IIP VIETNAM
In early June 2020, IIP VIETNAM had a meeting with the owner of An Ninh IC. After the meeting, the investor of CCN An Ninh assessed that IIP VIETNAM is a reputable and transparent industrial real estate portal with superior solutions to support the development of the public real estate industry. Vietnamese enterprises and officially decided to sign a strategic cooperation contract to promote industrial real estate investment with IIP VIETNAM.
Accordingly, domestic and foreign investors wishing to promote investment in Thai Binh province, please contact Hotline: 1900888858 or Email: info@iipvietnam.com.
Website: http://iipvietnam.com/
Fanpage: https://www.facebook.com/iipvietnam