Nam Tan Uyen invested over VND 3,200 billion to build an industrial park in Binh Duong
Ngày:15/06/2020 04:04:31 CH
Nam Tan Uyen Industrial Park was licensed by the People's Committee of Binh Duong Province in 2005, with a total area of ​​more than 331 hectares. Up to now, Nam Tan Uyen Industrial Park and Nam Tan Uyen expansion phase 1 has basically been finished.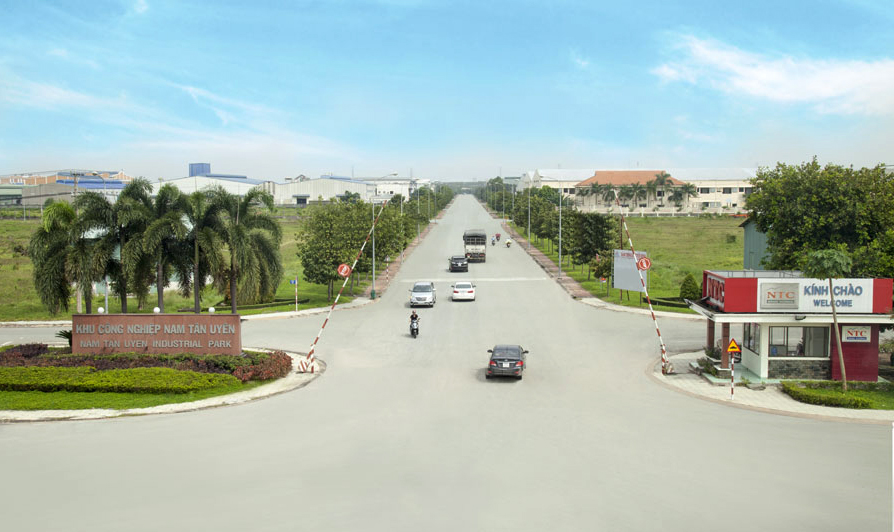 According to the resolution of the Annual General Meeting of Shareholders of Nam Tan Uyen Industrial Park Joint Stock Company (Code: NTC) has just been announced, the Company plans a total revenue of over VND 390 billion, an increase of 2, 17% compared to 2019. Profit after tax in 2020 is 177 billion VND, down 25% compared to the previous year. With the above target, NTC expects to pay dividend at least 80% in 2020, equivalent to 128 billion dong.
In 2020, the Company plans to lease 50 hectares of land with the expected average rental price of 90 - 95 USD / m2 for industrial land and 160 - 170 USD / m2 for service land; Management fee of 0.6 USD / m2 / year.
Furthermore, Nam Tan Uyen also leased 10,000 m2 of the ready-built factory with an expected rental price of 2.2 - 3 USD / m2 / month
NTC representative said Vietnam Rubber Industry Group and Phuoc Hoa Rubber (PHR) have agreed to determine the cost of compensation and support for economic losses of 2.5 billion VND / ha. This compensation level raises the total investment of Nam Tan Uyen Industrial Park project expansion phase 2 (NTC 3) to VND 1,485 billion.
Therefore, the company has a statement about the content of PHR's early payment of economic damage due to early liquidation of rubber trees worth VND 865 billion, corresponding to the area of ​​345.86 ha in real-time currently adjust the total investment with the competent authorities so that NTC can soon implement the land procedures and receive land for project implementation.
For the NTC3 project, the total investment is over VND 1,485 billion, the source is from 20% of its own capital, 40% of bank loans and 40% of other capital. According to calculations, NTC3 project will operate within 50 years with a total revenue of 6,020 billion dong and a net profit of 2,215 billion dong.

In order to ensure the capital source for the project implementation and to pay the land rent to the Government, the Board of Directors of Nam Tan Uyen submitted to the General Meeting of Shareholders a loan from the bank to implement the investment and payment of land use fee with a maximum limit of 3,212 billion. In particular, NTC will borrow 594 billion VND for project investment and 2,618 billion VND for state land rent.
As of March 31, 2020, NTC's bank deposit is VND 1,494 billion to invest in the remaining items of Nam Tan Uyen Industrial Park, Nam Tan Uyen 2, Nam Tan Uyen 3.
Also according to the resolution, The General Meeting of Shareholders agreed on the dismissal of the title of Chairman and member of the Board of Directors for Mr. Tran Cong Kha and approved the election results of Mr. Do Huu Phuoc, member of the Board of Directors holding the position of Chairman of the Board of Directors for the 2016-2020 term. 
According to research, Nam Tan Uyen Company is currently investing in some industrial parks outside Binh Duong province which are developing well and stable dividends of over 20%. In particular, Binh Long and North Dong Phu Industrial Parks in Binh Phuoc are planning to expand phase 2; Dau Giay industrial park in Dong Nai is waiting for land use planning and also plans to expand phase 2.