The industrial real estate market in Viet Nam fluctuates signigicantly
Ngày:29/06/2020 01:55:10 CH
Since the beginning of 2019, Industrial real estate has made strong developments, attracting many domestic and foreign investors. Moreover, in the current complicated stage of the Covid-19 epidemic, the industrial real estate once again affirmed the attraction of FDI inflows to Vietnam.
Realizing the potential in the field of industrial real estate, many businesses have started investing in industrial parks since the years before 2019. From 2019, with preferential investment policies to attract foreign businesses, Vietnam has become an ideal destination for foreign investors such as Japan, South Korea, Taiwan, the USA, Singapore, ...
Vietnam's advantages
According to the plan, by May 2020, the whole country will have 561 industrial parks with a total area of ​​about 201,000 ha, including 374 established industrial parks with an area of ​​about 114,400 ha and 259 Unestablished industrial park with an area of ​​about 86,600 ha. With a large industrial land fund, Vietnam attracts many projects from big investors from abroad.
Vietnam is emerging as an economy with positive recovery prospects after the Covid-19 pandemic, the business environment has improved positively and become a safe destination of the world, many trade agreements. Setting up a base in a country with a stable economic and political environment will help business operations be smooth, limiting the impact of external factors.
Abundant low labor cost is also an attractive factor for foreign investors to set up factories in Vietnam. Compared with other countries in the region of Vietnam, which has a low labor cost, it helps enterprises save a lot of costs. But to meet the requirements of a number of professions requiring high qualifications in Vietnam, it is necessary to quickly improve the quality of labor.
The Government of Vietnam has been offering many investment incentives to attract FDI, creating the most favorable conditions for businesses to do business in Vietnam. In addition, when investing in industrial zones in Vietnam, companies will enjoy preferential tax policies, support before and during operation.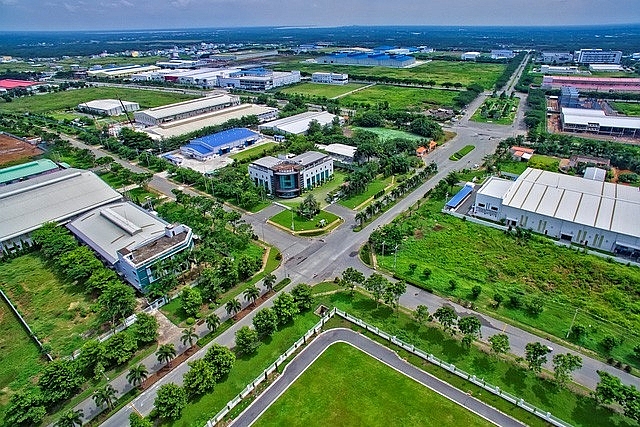 Achievements of Vietnam's industrial real estate
After several years of strong development, Vietnam's industrial real estate market has made proud achievements. According to the report of the Department of Economic Zone Administration (Ministry of Planning and Investment), by the end of March 2020, there were 260 industrial parks in operation with the occupancy rate of about 75.7%.
The "big investors" like Samsung, Apple, Honda, Toyata, Canon, Unilever, Panasonic, ... chose Vietnam as a place for "production bases". The success in controlling the Covid-19 epidemic and the ongoing trend of factory relocation from China is an opportunity for Vietnamese industrial parks to attract businesses moving from China. However, in order to attract big investors, it is necessary to do well in the development of infrastructure of industrial parks, so it is necessary to create conditions to support infrastructure development.
Restrictions hindering Vietnamese industrial real estate development
The interaction and links between industrial park investors with vocational schools and local governments to create conditions to improve the skills of workers are limited. To overcome this, localities throughout the country need to connect with each other to create a synchronization in production and business processes, reduce costs for foreign-invested enterprises to attract them to shift the supply chain out of China into Vietnam.
Vietnam's obstacle in attracting foreign investment in the local labor force, labor resources and quality of skilled labor.
Unlike the housing real estate market, industrial real estate investors have to spend large capital to invest in infrastructure and production areas, but the capital recovery is dripping, investors face pressure on fill rate.
The utility services accompanying industrial zones are still very limited, unable to ensure the living and living conditions for workers.
Any expectation for Vietnam industrial real estate market
The wave of moving factories from China "factories" is taking place strongly and there is no sign of slowing down. Although there are many big competitors in Indonesia, Thailand and India, we still try to take advantage of the contiguous position, low cost and improve the infrastructure system in a synchronized manner to attract foreign investors. Although attracting only one-tenth of this FDI inflow is also a success for Vietnam.
The reform of administrative procedures and the approval process of industrial park planning are highly expected by investors in order to reduce the time for approval and putting the project into operation.
Synchronizing utility services accompanying industrial zones is a matter that needs attention. When life is guaranteed, utility services next to the developed industrial zone will help employees stick more to their jobs. This will be an attraction for many workers, especially highly skilled workers. The system of housing, restaurants and attached services is a minus point of Vietnamese industrial real estate, posing a problem that needs to be changed.
Understanding the situation of Vietnam's industrial real estate market and the needs of businesses around the world, IIP VIETNAM is a reputable unit in the field of investment promotion, legal procedure support, investment advice. Investing in industrial real estate in Vietnam helps the investment process be carried out quickly and conveniently, we hope to become the most reliable bridge, helping industrial park investors and business investors. It's easier for foreigners to find each other.