The US Ambassador highly appreciated Vietnam's potential to attract supply chain shifts
Ngày:26/06/2020 03:45:00 CH
US Ambassador Daniel Kritenbrink recently visited Ho Chi Minh City emphasizing that Vietnam is a potential market to attract supply chain shifts because of the Covid-19 pandemic.
"Vietnam is an important market for US businesses. I think the COVID-19 pandemic presents both challenges and opportunities for US businesses, such as supply chain shifts. This shift could bring many benefits to Vietnam,"said US Ambassador to Vietnam Daniel Kritenbrink.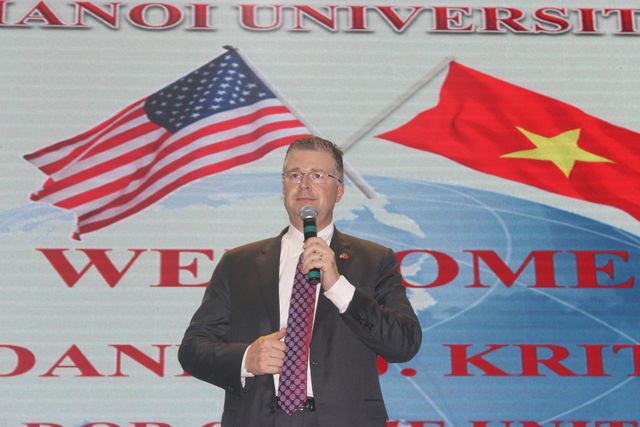 He also said that Vietnam is still an extremely important market for US investors and traders. Some of his friends in Hanoi have predicted some changes in the supply chain that took place before the COVID-19 epidemic and will continue to accelerate after this crisis.
I think Vietnam is having privileges to benefit from some changes in the supply chain. As far as I know in Hanoi, Vietnamese businesses and officials want to seize their advantages as much as possible, "the ambassador said.

Although US companies are still worried about policy issues, tax law for foreign businesses in Vietnam, but Ambassador Kritenbrink said that the Vietnamese government has in recent years made efforts to improve these issues to attract more foreign investment. global disruption because of the COVID-19 pandemic and US businesses tending to move production lines from China, Ambassador Kritenbrink said this was an opportunity for Vietnam.
Vietnam is doing very well in attracting investment from abroad thanks to its young, dynamic, increasingly knowledgeable and hardworking labor force. The reforms and economic breakthroughs you have achieved also make many people optimistic about the future of Vietnam, "said Daniel J. Kritenbrink.

Besides, this person said that Vietnam should ensure safeguarding the rule of law as well as showing foreign investors and businesses that, through policies and infrastructure, that they are welcome, Vietnam also needs to ensure tax policies are transparent fair and united.

Previously, Mr. Adam Boehler, Executive Director of the United States Agency for International Financial Development (DFC), said that the US considers Vietnam as a "preferred partner" in upcoming projects in the region, including manufacturing Strategic products in the US supply chain, according to a statement from the Vietnamese Embassy in the US.