INDUSTRIAL REAL ESTATE: VIETNAM JOINS THE GLOBAL SUPPLY CHAIN
Ngày:14/07/2020 02:59:47 CH
The situation of foreign investment in the first 6 months of 2020 has shown the attraction with "big" companies of Vietnam Industrial Real Estate market. Large corporations have relocated their factories to Vietnam as well as planned to prepare for this "migration".
VIETNAM WELCOME BIG COMPANIES TO COME AND DO BUSINESS
The information was revealed at a meeting between Deputy Prime Minister Truong Hoa Binh and Mr. Nate Easter, Executive Vice President of Techonic Industries (TTI) a few days ago that a wireless electrical equipment factory in the HCM City Hi-tech Park (SHTP) of this TTI is expected to be completed in the third quarter of 2021. This project, in fact, has been granted an investment certificate since the end of last year, with an investment of 650 million USD and is actively being implemented.
In addition to this new factory, as well as the previous factory that TTI invested to build in Binh Duong, TTI also plans to build a research and development center (R&D), with a plan to attract about 2,000 engineers and research experts in the field of information technology and manufacturing technology.
At the same time, TTI, with the desire to contribute and accompany the development of Vietnam's high-tech industry, will also focus on developing the domestic supply chain. Sharing information with Deputy Prime Minister Truong Hoa Binh, Mr. Nate Easter said, TTI expects that in the next 2 years, attracting 180-200 Vietnamese enterprises to become suppliers for TTI, with the target of about 2.5 billion USD/ year, the domestic supply rate will reach 60% in 2020 and 80% in 2021.
Not only investing a large amount of capital, TTI's investment plans are more important, having reached all three important goals in attracting foreign direct investment (FDI) in the coming period of Vietnam: High-tech project, with investment in R&D and connecting Vietnamese businesses to the global supply chain.
Therefore, this is a good signal for Vietnam's FDI attraction. Although not many, but that proves, quality investment flows are choosing Vietnam as a stop.
Similarly, Qualcomm Corporation has just opened a new office and a new system of laboratories in Hanoi, including an RF laboratory that supports design and calibration evaluations; PPT laboratories perform power consumption, performance and thermal testing, and camera service laboratories provide camera adjustment and basic image quality confirmation services. This is also the first R&D facility of Qualcomm in Southeast Asia.
Exxon Mobil Group has also announced that it will invest in two large gas power projects in Hai Phong and Long An, with the scale of the plant in Hai Phong is up to US $ 4 billion with capacity of 4,000 MW. Exxon Mobil is expected to come to Vietnam in the first months of the year, to make final decisions on investing in these projects. But the Covid-19 pandemic brought this plan back. However, eager to take advantage of the opportunity to make a decision to invest in Vietnam soon, instead of coming directly, the Group's leader has chosen to conduct a phone call with the Prime Minister Nguyen Xuan Phuc to share about the plan. And the head of the Government of Vietnam highly welcomed Exxon Mobil's plan to invest in a chain of gas power plants in Vietnam.
EFFORTS TO WELCOME A NEW INVESTMENT WAVE
Besides TTI, Exxon Mobil, Google, Microsoft, Samsung, LG, Pegatron ... are also planning, even not a plan anymore, but have begun to carry out the investment shift to Vietnam.
Foxconn, the largest manufacturer of Apple products, is also believed to be planning to expand production in Vietnam. Young Liu, chairman of Foxconn Group, told foreign media that in the past two years, Foxconn has moved some of its manufacturing operations out of China, with most of the shift being to Taiwan, India and Vietnam. In particular, Foxconn has invested more than US $ 371 million in India and more than US $ 203 million in Vietnam in 2018-2019.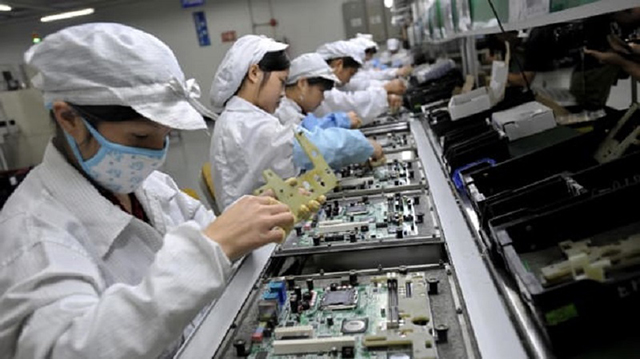 According to Young Liu, Vietnam is currently Foxconn's largest manufacturing center in Southeast Asia, with an even larger capacity than in India. In the near future, there will be many products manufactured by Foxconn in Vietnam, including Google's Pixel 5.
"Vietnam has controlled Covid-19, with effective measures, highly appreciated by the world. This success will create a safe and reliable investment environment for investment and international trade in Vietnam. Nam, "said Irtiza Sayyed, global president of Exxon Mobil Group in a conversation with the Prime Minister.
But the success of "fighting" Covid-19 was only a factor to stimulate a strong investment flow into Vietnam. The main reasons are pointed out by economist Can Van Luc. These are corporations that want to avoid the risks of trade and technology wars between the US and China; want to continue diversifying the production chain when China is losing advantages in attracting FDI; In order to take advantage of new opportunities from potential markets, many governments want to shift their supply chains, Covid-19 makes businesses want to rearrange their production chains.
However, according to Doctor. Can Van Luc, in order to attract this wave, in addition to good disease control, Vietnam needs to soon develop and announce a policy to attract the flow of investment capital, which clearly states the priority fields, priority regions to attract investment; prepared land fund, ready infrastructure ... Besides, streamlining investment processes and procedures; to adopt policies and packages to support training of skilled manpower, to increase direct meetings between the leaders of the Government, ministries, branches and localities with big investors to understand their needs and quickly solve problems.
Mr. Can Van Luc also recommended that it is necessary to operate effectively the Special Working Group on FDI attraction in Vietnam soon. This working group has just been established by the Prime Minister.